Math is just one of those subjects that students tend to have a love/hate relationship with, but what if there was a program available that made math fun and taught students step by step while detecting what they are missing? A program like that is exactly what we found when we recently reviewed
LearnBop for Families
from
LearnBop
. This company has been offering their math program to schools for awhile now, but they just recently began offering LearnBop for Families which is geared towards homeschool families.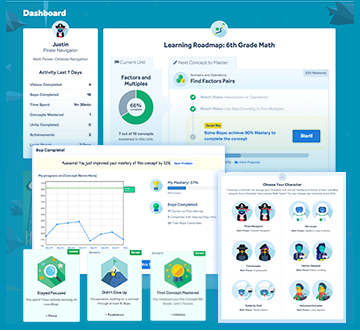 LearnBop for Families is an online program that is designed for students 3rd grade through 12th grade.
LearnBop
has developed a step-by-step learning system that teaches students to solve math problems on their own. Their program helps to find prerequisites that the student might have missed at the current grade level and in previous grades while they are working their way through the lessons. This program is self-paced and simulates one –on –one learning like having a personal tutor would. Students can master math faster, catch up on previous grade work, and even get ahead.
LearnBop for Families
also gives parents math help in the dashboard area by allowing you to work through the same material your student has access to, you can see the progress and achievements of your student, and you have the ability to adjust the level your student is working at. You can purchase plans for just one student or up to four students and their plans start at just $14.95 per month.
Roadmaps Available
This is where the student can see their progress
We received a one year subscription for the Family Plan of LearnBop for Families from LearnBop to review. It was very quick and easy to set up the parent account and in that account is where I set up accounts for Buddy and Little Miss. Once you get your students set up you can choose their "Learning Roadmap" which is what they work on. You can set up the roadmaps by grade or subject and they also have High School Roadmaps for upper level math. I set Buddy's level to 8th grade and I set the level to 3rd grade for Little Miss. I also chose a roadmap for myself so that I could see how this program worked. I set my level to 8th grade so I could help Buddy if he got stuck and it is good prep for teaching his math this fall. Then I just had each kid start working through their roadmap to see how far they could get. They worked on this program at least 3 days a week and sometimes more.
Building Blocks to work on
Each level of the roadmap starts with a warm-up that determines what the student knows on the subject. After the warm up, the program determines where you should start on the lessons. The lessons are broken down into "Building Blocks" which are the foundations they need before they can master the overall concept or " Unit Concept." The lessons usually begin with a series of videos that thoroughly explain the building blocks you will be working on and they give examples. The student watches the videos and then they can work on the "Bops" (problems) for the lesson. They have to achieve a 90% mastery in the "Bops" before they can go on to the next part of the lesson. They continue doing this they master each area. They can see their progress as they go by checking the meter at the top of the page. The area where the meter is tells them what percent of the lesson they have completed, how much more they have until the concept is mastered, how many videos they have watched, the number of Bops completed, and how long they have worked on this section. They can earn achievements and milestones for their work.
Concepts to work through
Both kids liked working through
LearnBop for Families
. They felt like it was easy to figure out where to start each time and find their way around the area they were working on. They really liked watching the videos and being able to work at a pace that was comfortable to them. Both kids were challenged by this program. They thought they had watched the videos closely and knew what to do, but there were times they struggled through some of the "Bops." Buddy was challenged because the material he was covering in the Bops was new material and the concepts seem very similar to him. This made it challenging for him to answer the Bops because he found that he really had to sit and think through each individual step of what they were asking him to do. He got a little frustrated with that because math used to be an easy subject for him, but now he is at the stage where math is getting hard and you have to think step by step rather than just quickly get an answer. It is really just something we have been working on with him to get him to go step by step for math. So LearnBop was really good for him because it forced him to work step by step rather than just skip ahead and guess an answer. Many times when he tried to just guess, he would get it wrong. When he took the time to think it through, he did fine. He did like that he could get hints when he got things wrong to show him why he got it wrong. The hints did not give the answers, they just helped break down the process for you to think through the steps. Buddy did say he likes working on LearnBop and wants to keep working at it. I think he is enjoying being challenged.
The Mastery has to get to 90% before they can move on
Little Miss learned that she really has to read through each problem and do exactly what was asked of her. When she did this, she did very well at LearnBop. If she didn't read carefully, she made mistakes which frustrated her. She learned she had to slow down too. I think she kept forgetting she was learning new concepts and thought she was reviewing instead. For the review period, I kept Buddy working on Grade 8 and he did well, but was he worked slowly on it. Again these were new concepts to him so it took him a little longer to work through them even though he was working consistently on it. He is about 68% of the way through his first unit. Little Miss started out in 3rd grade and got frustrated. At first I didn't have time to sit down with her and figure out why she was so frustrated so I switched her to 1st Grade (they do offer work on some of the lower grades just for concepts) so that she could review and have success on the program. Once I got a chance to sit down with her and see why she was getting frustrated, I realized that it was because she wasn't reading the problems as carefully as she could have been. Her frustration was her own fault and my fault for not sitting down to work with her sooner. Once I worked with her, I bumped her up to work on 2nd grade work and then finally back to 3rd grade. She completed 1 entire unit in 1st grade, a partial unit in 2nd grade, and a partial unit in 3rd grade. Now that she understands that she has to go slow and work step by step, she has been much more successful at LearnBop and wants to keep working on it.
The Roadmap they work on
I am only a little way through the unit I am working on. I have not been able to sit down as consistently and work on this program, but I really love what I have worked on. I love the login process. I login in and then I can have each kid login (they click a button and it takes them to their dashboard) through my dashboard. It is easy, quick, and I only have to remember my password. I love the dashboard and that I can quickly switch and see how each of my kids are doing, how long they worked, and the progress they made. The dashboard of this program is super easy to navigate and just very well put together. It is probably one of the easiest dashboard's I have come across for online programs. I really appreciate how thorough the videos are and how they take the time to break down the concepts that are being taught. I also really like that there is a set percentage that students have to obtain before they can move on. I know that they have to do the work to move on, it isn't just do one problem and go, it is hit 90% before they can move on. I also love that if you get the problems wrong, the program encourages you to try again (you can also restart the problem). If you continue to get the problem wrong, it has a button to show hints. The hints don't giveaway the answer, but they point you in the right direction and help you see what step you need to think about to answer the question right. If you continue to get the problem wrong, the program breaks it down step by step starting with true and false questions for each part. In many cases for both of my kids, the true and false questions helped them have that "aha moment" and they figured out what they did wrong. Overall we really, really liked LearnBop and will continue to work on it. It has been a great tool to keep my kids working on math through the summer.
My kids loved earning achievements (these were for Little Miss)
You can find out more information about LearnBop on their
website
,
Facebook
, and
Twitter
. You can find out more about the LearnBop for Families that we received by clicking
here
. You can also read the reviews from my fellow Schoolhouse Review Crew members and see what they thought about LearnBop for Families by clicking on the banner below.